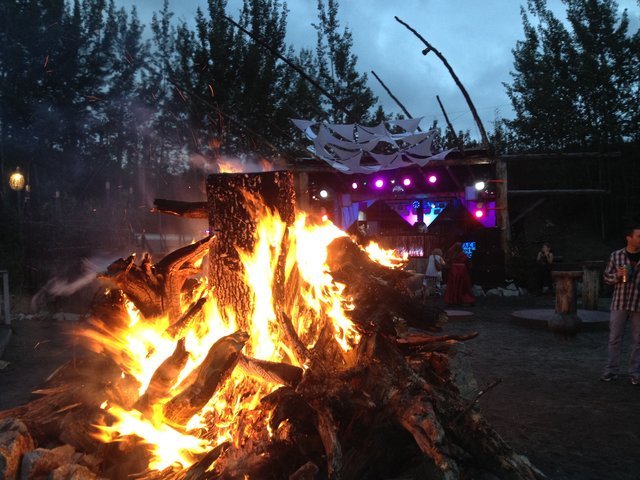 One day, the warm, shorts-and-dresses weather will be here and we can all emerge from our winter-chrysalis ready to throw down and get ready for another epic summer. And what could be more summery than a music festival? Here is an overview of the top summer music festivals in the Yukon.
Kluane Mountain Bluegrass Festival
Where: Haines Junction
When: Early to Mid June
Also in an amazing location, this festival encompasses a specific kind of soulful music. But the low-key, relaxed atmosphere makes it an event worthwhile to attend.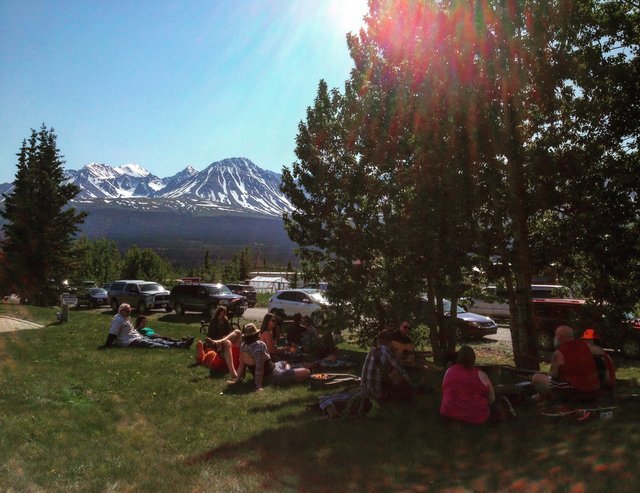 The good:
Easy access from Whitehorse, with only a 1.5-hour drive to Haines Junction, making it accessible.
The church venue (Saint Christopher's Anglican Church) is by far my favourite venue from all the music festivals. The sound quality and set up is excellent. It truly takes you back to a different time.
The seamless integration of artists and attendees was incredible. Whether you have musical talent or not, jam sessions of all ages and backgrounds would spontaneously pop up under the shady trees on the grass or in the evening by a bonfire.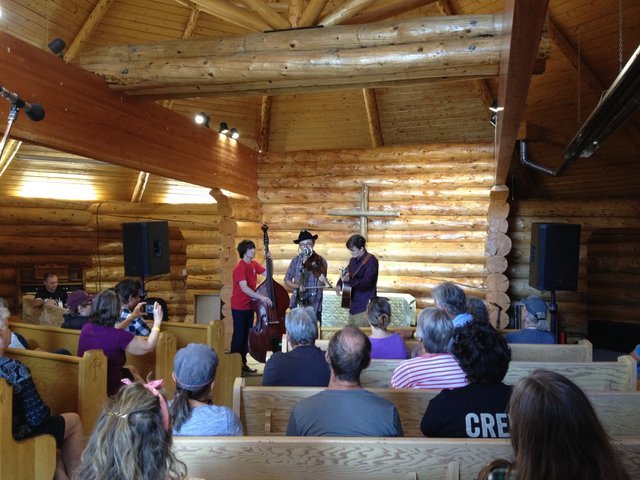 Volunteering at this music festival is the best in the Yukon as you got to attend the festival and are also fed amazing food. (I'm all about the freebies).
The bad:
Camping is somewhat restrictive in town; the majority of campers have to stay at Pine Lake, which is a 10 km drive away.
The festival is definitely in need of an outdoor stage venue – if you have the Kluane mountains as a backdrop, you should utilise it!
This is a dry music festival. So for those who want to drink, this means very late drinking sessions at the bar or the hostel campfire (after the acts were done at midnight). This can be brutal on your sleep schedule.
Atlin Music & Arts Festival
Where: Atlin, BC
When: Early July
This festival takes place in a majestic location (if it's not raining) with almost all walks of life attending from families to seniors to drunk millennials. I honestly can't remember the music, but I do remember eating a car trunk barbecue on the side of a road with newly made buddies and observed one of the most beautiful sunsets in the world.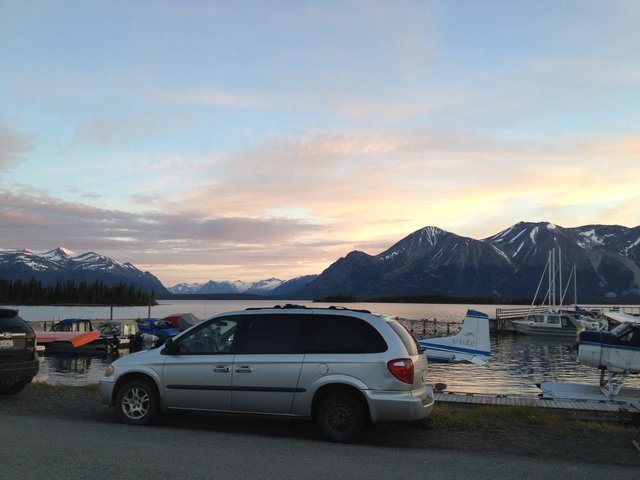 The good:
I have never been to a festival that had so many different demographics attending; it was amazing to see. And surprisingly wasn't weird or scary for any body… perhaps Canadians are just better behaved than Australians and Europeans?
The location is incredible and not far from Whitehorse with only a 2.5 hour drive, making it accessible to get to for the weekend.
Great to see day events for kids and lots of food vendors.
Lots of camping options – and it's great that the town is so accommodating – particularly because the place is taken over by the music festival (I don't know who was left in Whitehorse)!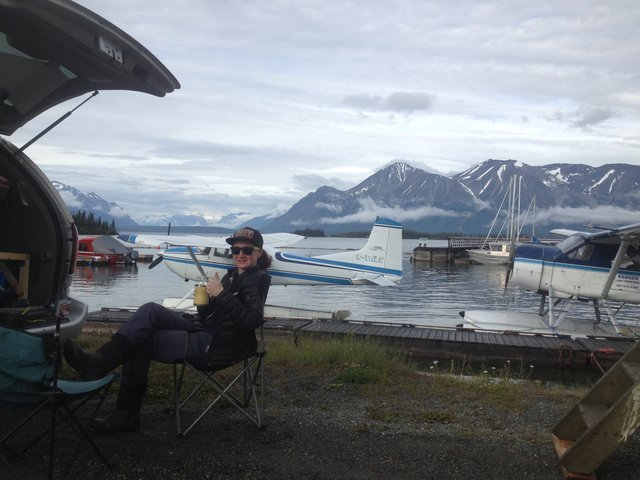 The bad:
When raining, everyone was stuck in a small tight space or you simply just stood in the rain. It felt like a very Scottish kind of festival with the weather. Plus I felt very, VERY sorry for those camping in the wet and boggy fields.
It's unfortunate that drinking was restricted to outside the main tent, meaning you couldn't enjoy a drink on the dance floor. Seemed to encourage binge drinking at the drink tent to get back in to see the music.
There aren't many places to accommodate people indoors – like bars or restaurants – during or after festival hours. So when it was raining, you suffer. It's not just a little rain, it was a monsoon.
Dawson City Music Festival
Where: Dawson City
When: Mid July
This is a long weekend of partying and shenanigans to some amazing music that has venues all over the incredibly quirky city, although I have to admit, the Dawson music festival pretty much broke me. I was still recovering after a week, and can thoroughly say I was "Dawsoned" – so be warned!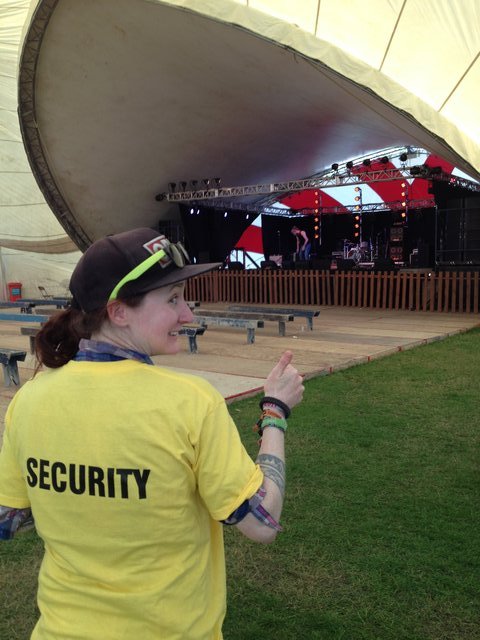 The good:
There are venues all over the city – including free venues! Plus it's actually in the town, so it means any amenities needed are at hand, and there are also non-music festival events and things to do when no acts are on.
Dawson City is amazing and heaves with party atmosphere. With venues like Gertie's and the Downtown Hotel, having a music festival in the city is great to explore and experience not just the music festival, but Dawson City itself.
It's a well organised festival – the biggest one in the Yukon. Whether you're looking to chill out at on the grass by the river listening to musicians play at the free Gazebo venue, or seek out the additional quirks that Dawson City has to offer, such as a raunchy show at Gertie's or swigging back a shot with a toe, it has everything you need and more!
Good security. I was really happy to see lots of security and police patrolling, making sure everyone was okay.
Being able to drink in the main tent and enjoy a dance is really great for a festival atmosphere.
Camping areas are alcohol-free and noise-free. Since Dawson has a lot of venues to drink and party, it was great that you could actually sleep at your camp area, as security was prevalent to keep noise and alcohol out.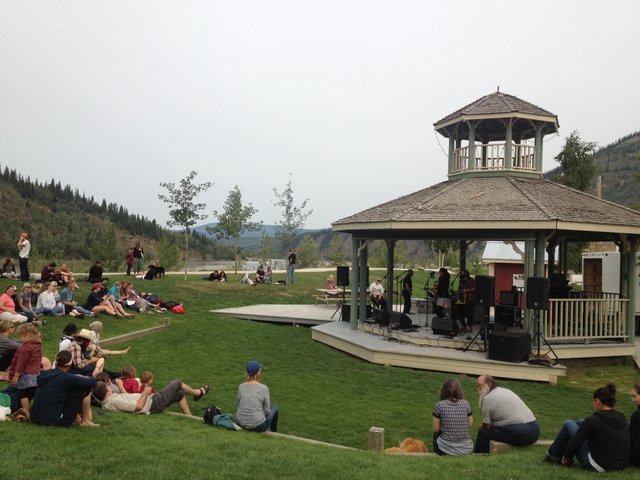 The bad:
Distance: 6+ hours of driving on terrible roads makes it the furthest music festival from Whitehorse (and post-festival this is the most difficult drive you will ever undertake being hungover and sleep deprived).
No shade! Dawson, with its dry, wide-open, dirt streets and lack of shade, makes it difficult to get out of the endless sun. It would be great if there were more areas to rest midday out of the heat, sun and dirt – particularly at the camping areas. Be prepared because trying to sleep during the day was impossible, and that compounds each day.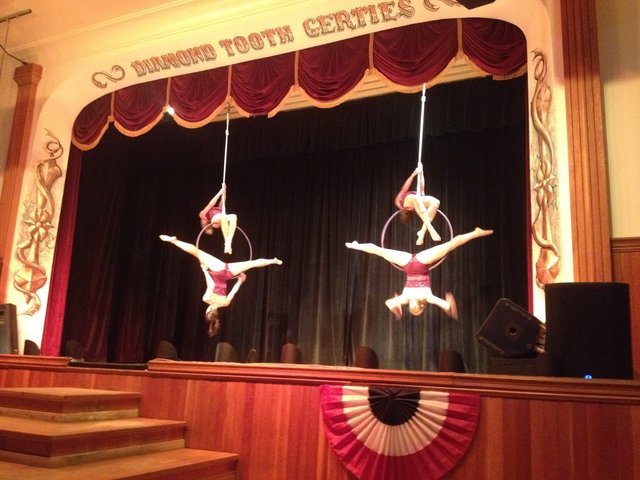 Paradise Electronic Music Festival
Where: Marsh Lake, Yukon
When: End July
"Come as you are" has never been truer at a music festival than at Paradise. Whether you want to rave in a onesie or dress in medieval clothing - there's no judgement, just enjoyment. It's aesthetically amazing (see "the good") with so much intricate work on the stage and entire grounds design and an incredible vibe.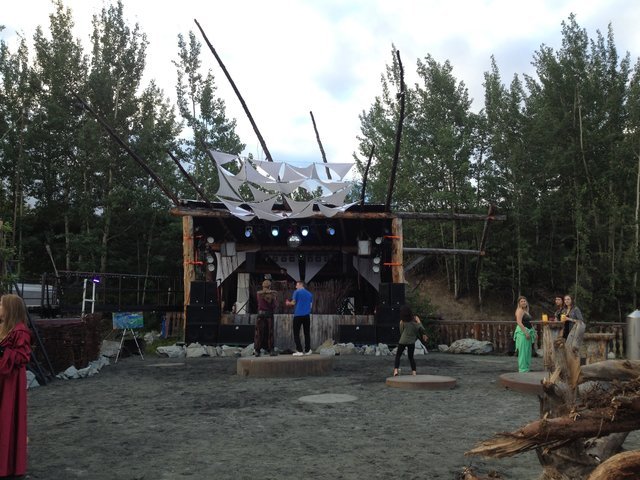 The good:
Hands-down the most amazing aesthetics I've ever seen. The whole venue was meticulously staged to make it truly unique. From random decorative chairs in the woods, fairy lights leading you to the venue, personalised signs for everything, a chillout zone built in a decrepit old cabin with comfy chairs, a stage specifically-made for the event that the volunteer team builds on each summer before the festival, it's constantly growing…photos can't do it justice, you need to see it for yourself.
For me, electronic music is the music I listen to, so it was great to hear it for a change in the Yukon.
The 40-minute trip from downtown to the venue makes this the closest music festival to Whitehorse.
There is a free shuttle bus from downtown Whitehorse to the venue and back, to reduce intoxicated driving.
It's a "no glass" event, which means everyone can enjoy dancing barefoot on the dancefloor a.k.a the volcanic ash sand pit.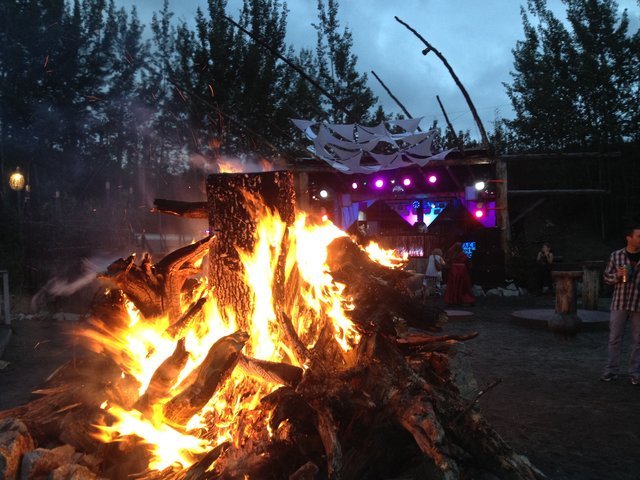 The bad:
Not much sleep; the festival stops at 4 a.m. or 5 a.m. on both mornings and trying to sleep at the campground while the music is playing is virtually impossible.
Camping in general is the attack of the midgies! Be warned: Marsh Lake means marshes, and the bugs in the woods are prevalent.
---
Tips & Tricks
Short on Cash? Volunteer! It's a great way to meet people, plus get some perks like a free ticket to the event.
Camper van – weather in the Yukon can change in an instant and whether you are trying to avoid the sun or lashing rain, having a bed in the back of your car will be a life-saver!
Solo Flyer? Don't worry, most of my festival-going life I fly solo. It's a great way to meet new people and gets you trying new things. So don't fear it, embrace it!