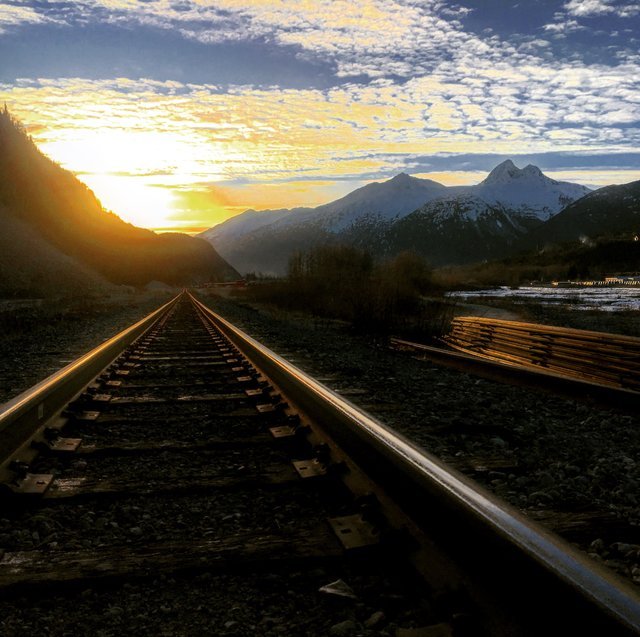 Early morning at 7 a.m. on Saturday, December 23 I began my journey to Skagway. The brisk Whitehorse temperatures of -27ºC would be a distant memory once I got to Alaska.
I arrived to a balmy -6ºC in Skagway and I started the trek up to Upper Dewey Lakes on the steep snowless tracks, regretting my life instantly. My rucksack, weighing approximately 15 kg, and my mostly inactive December, meant pain. Lots and lots of pain.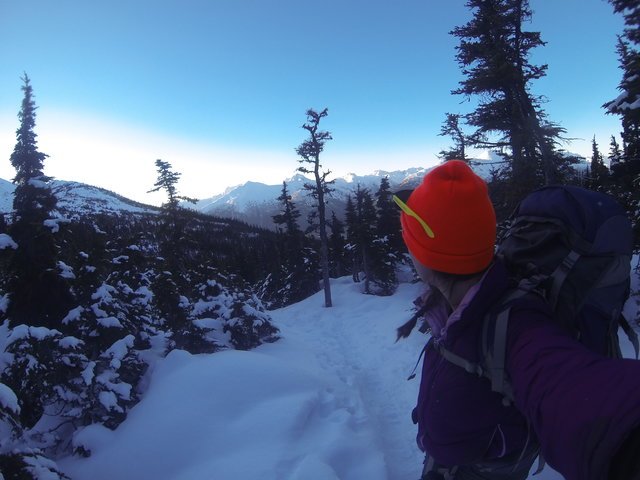 Yet, I continued the steep ascent enjoying the non-icy tracks, and once out of the treeline I got an incredible view of the steep, snow-capped mountains.
All of a sudden a dark figure appeared from the trees, and as my heart skipped a few beats, I noticed it was a person. It was a couple from Whitehorse who had stayed in the Upper Dewey Cabin, my destination, and were making their descent down.
As we chatted, they were concerned I had no bear spray. "We think we saw some bear prints, or they could be Lynx prints." Knowing the difference, but worried nonetheless, I took their offered bear spray and continued on my hike.
I took a photo of the incredible view and dropped my glove, and as I reached down the bear spray shot out all over my pants. As I looked at the canister I realised it didn't have a safety cap on and, disgruntled, I kept hiking up, hoping it would come out of my clothes.
As I approached the cabin it was certainly much colder than in town, at least ten degrees colder, and once stopped I noticed my water had almost frozen completely in its container.
I went inside the beautiful and rustic cabin and started trying to decipher the instructions to working the furnace. To no success. However, I spotted a young snowboarder with a dog and asked for some help. He came in and attempted, also to no success.
Clearly, at these cold temperatures I was already freezing, and with no heat, I determined begrudgingly that I must descend the mountain.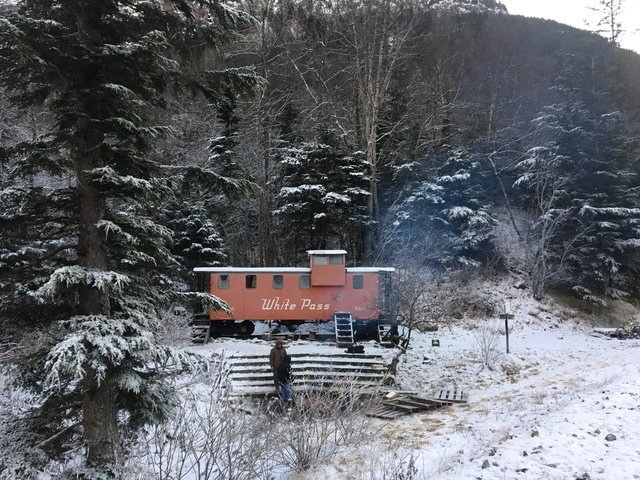 I hiked down with the snowboarder and as I started to warm up I noticed my leg felt like it was on fire. "Oh no," I thought to myself. "The bear spray."
I checked my leg and it was bright red and I decided to take my hiking pants off and put my thermals on. The painful last hour of the hike, my legs had given out and I was literally sliding down, which resulted in many twigs in my bottom. At the trail end I determined I should hand back the keys at the police station and ask for some help.
The police department called the clinic and advised me to wash my leg with soap immediately. So I went to Happy Endings bar in hope of using their bathroom to somehow wash my leg.
I entered the bar and explained that I maced myself with bear spray and the bartender and four patrons in the bar are extremely concerned, but also can't stop the smirking from the ludicrous statement. The bartender started to help me to the bathroom when one of the patrons offered me to shower at her house. I took her up on the offer.
After a 20 minute shower and some cream on my leg I hobbled over to the bar with my bath towel and hiking boots to sit at the bar.
"Are you wearing a towel?" one of them asked. "Yep, it's a kilt towel," I responded and everyone laughed. My excuse was to keep applying lotion without it getting soaked up by clothing. But I could see how it looked strange. Sitting at the bar with nothing but a bath towel, shirt, and hiking boots.
The evening resulted in a few pints, dinner at The Station, which seemed to be drastically running out of food, and meeting many locals who definitely thought I was crazy hiking up alone and continued to apologise for my pain, even though it was self-inflicted.
The night ended in the Eagles Aerie #25 bar at 2 a.m. and I was thoroughly exhausted and thankful to be given a warm couch to sleep on.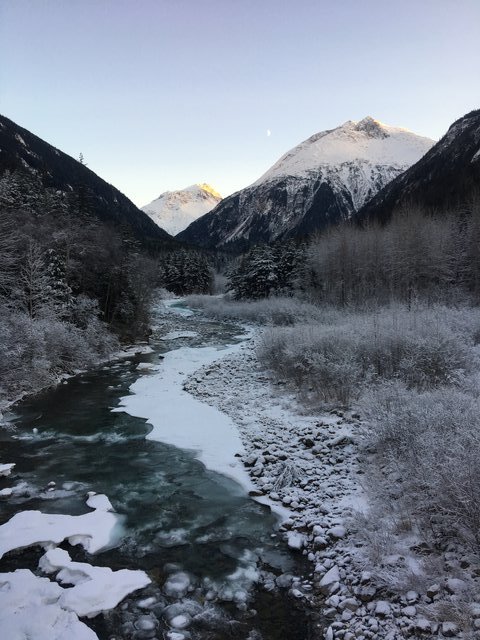 The next morning on Christmas Eve, my legs were so sore I could barely walk and the gale-force winds made the sunny day seem brutally cold. I'd met a number of locals the night before and we headed out to Dyea by car, which is 15 kilometres from Skagway and the start of the Chilkoot Trail. There was no wind and beautiful sunshine.
Christmas Eve back in Skagway means free drinking for Skagwegians, also known as getting day drunk in Skagway. You hop around to all the businesses for free drinks and gifts and even with the chilly winds, it didn't stop anyone from enjoying the festivities.
After a sedated Christmas Eve, the howling, cold winds had died down and it was a warm -4ºC with beautiful sun. After a very slow start to the day we decided to head to the Denver Caboose to join some crazy Skagwegians who camped there overnight.
With rucksacks full of beer, we started the flat 5.5 mile hike along the White Pass & Yukon rail tracks. Only 15 minutes into the hike we come across a few people who were returning to Skagway after a freezing cold night with limited heating in the caboose.
Fortunately, one was driving a quad and took us most of the way to the caboose. Face frozen from the windy, bumpy ride, we get the fire burning, crack a beer, and enjoy the stunning views as the sun slowly crept away.
By evening, it was time to walk the tracks back to Skagway, which seemed a much longer journey when not transported by quad.
Boxing Day was another beautiful day and an incredible drive back to Whitehorse. I was feeling lucky that I maced myself with bear spray, because that led me to finally meet locals in Skagway.
Skagway is an incredibly close-knit town in winter, with some of the most kind and thoroughly entertaining people. If you haven't visited Skagway, it's a must-do!
For information about renting the Upper Dewey Lakes Cabin go to _www.SkagwayRecreation.org._