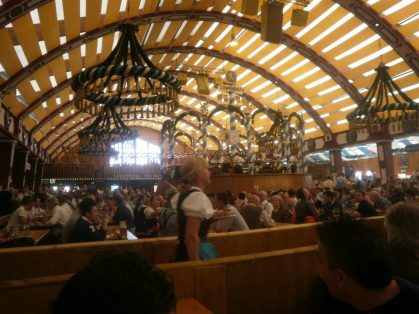 Tis the season to celebrate all things beer and what better way than attending Oktoberfest in Munich. This event is held annually in the city of Germany as the largest Oktoberfest. You can also attend most other cities in Germany for similar (but smaller) celebrations (and definitely cheaper).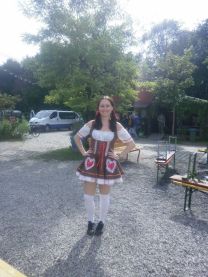 But this is definitely a festival to attend and a festival to attend by yourself. I mean, you basically are drunk the entire time.
First things first. When is it held? It's called Oktoberfest right? Well generally it is mostly held during the mid or late September until that first week of October. So it can be deceptive!
Generally its best to check out the Oktoberfest official website for full details: http://www.oktoberfest.de/en/
Now like most events that in today's travel-obsessed youth, this festival gets full pretty quick. That means you do need to pre-plan if you want to go on the cheap. Alternatively book a tour!
Next things to think about are transportation to Munich. Generally flights arrive into town ad you can access the main town by train from the airports.
Accommodation is probably the second most expensive part (second to the drinking part). This gets
booked quickly and depending on where you will be located is expensive and/or for groups with single supplements. So if you are like me and travel alone, this just is a pain in the ass.
So what I recommend doing is camp! And not camp in the main grounds in the city which is 60 Euros a night but a short 20 minute metro outside in the botanical gardens. The website is http://www.the-tent.com/
The prices can vary from 8 to 25 euro a night depending on what you want to do. It is the ultimate cheap oktoberfest accommodation.
If you don't want to camp, you need to get in Early (about Feb/march) when they release the indoor beds, and trust me, they go fast!
However, camping is great fun. They have bonfires each night and the grounds are filled with people attending the event into town, so you can hook up with people on arrival.
What you need:
• Tent (if you take your tent via hand luggage which I did, make sure to take plastic pegs. These can be bought really cheap e.g. Tesco sells them for about 6 GBP)
• Sleeping bag
• Really
– Warm clothing (Remember it is September and October, so the weather is hot during the day but can be about 10 degrees at night)
• Torch (because coming back in the middle of the night is a mission)
• Something to distinguish your tent e.g. flag. Cause being drunk and trying to find your tent amongst a lot of other tents is really entertaining
What are the Positives of Camping for Oktoberfest
• Super Cheap it also has a kitchen and a supermarket nearby to reduce costs
• Great way to meet people if you are alone or even merge to make a uber group!
And of course the negatives….
• Not in town, so costs of metro and time for metro. But don't worry the tents shut relatively early and you will probably be too knackered anyway to stay out uber late!
• Cold at night
But generally camping at Oktoberfest is great fun and if you want to do it cheap, this is the ONLY way to do it.
Practical Info for Oktoberfest:
When to go?
Well it depends. The first and last day have big ceremonial aspects which are pretty cool
but the busiest days. The weekends are also busy and if you want to go inside a beer tent your best bet is to go monday to thursday to avoid these crowds
How does it work?
The beer tents open at 10am and they are huge and quite a few, but they do get to capacity early and depending on the day. So you need to go early to get inside. A lot of tour groups reserve areas. You can reserve a table but I think the minimum is about 10 people. So get there early but you definitely have good chances if there is only 1 of you. I definitely recommend getting into one tent, as the music and fun is great inside. But most tents also have an outdoor seating area which is great to meet people, its find a seat and get served by the beer wenches. These areas are also the smoking areas.
Beer really costs 10 Euros? Yep, well almost. So be prepared you will get skint and be really drunk, especially if it is sunny and hot. You get served 1 litre beers and the general rule is you have to finish.
*Originally posted June 2015