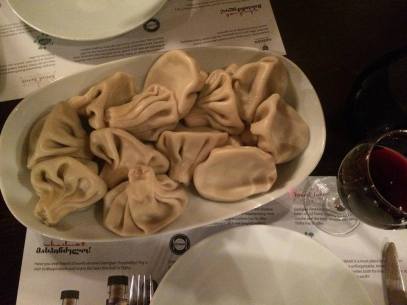 Georgia (the country not the state); a little mountainous gem that is nestled between some pretty big international players. Their history, culture, food, people, lands are incredible and it has so much to offer with so little time.
But when living or even visiting Georgia there are some simple rules patience is key and never say no to hospitality (not like Georgians understand the word "no", but I will come to that later). Winter is a particularly amazing time to visit this country and here is some information and experiences to encourage people to do so.
Culture & People
Georgia has the most hospitable but also unreliable people. People are willing to give the shirt off their back if it will mean you have an enjoyable stay; however, life is slow in Georgia and as such the reliability of things is quite low.
For example, if someone says 5 more minutes…that's Georgian time for 1 hour. You will see many people sitting around, talking, drinking, smoking; you wonder when do people work?
Georgia, like most of its neighbours, has a very masculine culture. They marry young and the wife stays at home to care for the children. The men greet their friends with kisses and often you will find them holding each other and touching each other while drinking and eating, completely as a friend.
With this masculine culture, travelling as a single woman has its benefits and negatives. Firstly they will ask why you are not married with children – now I lie and say I have a boyfriend (it has helped a little) but the benefits are that Georgian men want to help as much as possible and do as such – often even if you try to say no – they will pay for food, drink, anything you need. The downsides of this are – and because you are foreign – they think your "easy". Being touched inappropriately is common and a hard "no" or walking away tends to do the trick. The word no or "Ara" in Georgian seems to fall on deaf ears most of the time in any situation.
Typically if you stay with or meet Georgians at home, they live altogether. Generally three generations will be in one household. Most people in their 20s (if they aren't studying in Tbilisi) will live at home until they marry.
People are friendly, but moreso in village areas, where you are a novelty and you don't have the hustle and bustle of the city. The older people will speak Russian from the previous Soviet days, but generally most young people in Georgia speak English quite well. But if you want ease to get around, a little Russian will get you a lot further than English will.
Generally in Georgia there isn't much enforced regulations or rules and as such you will see a different way of life here. The driving is erratic and crazy, many times people will be drinking and eating – as it passes the time in Georgia. It is a bit of a culture shock, but if you relax and let be what will be; you can survive your time in Georgia with pleasure instead of stress.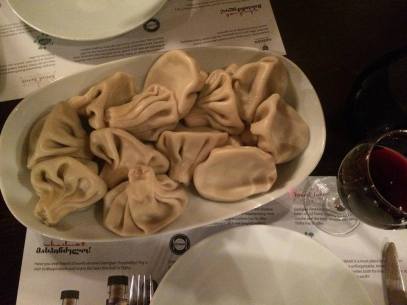 Food & Drink
Be prepared in Georgia to eat….ALOT and ALL THE TIME! People go to a restaurant and the table is full of food and drink; perhaps 50% actually gets eaten. Food is always with wine or beer and chacha. A common practice in Georgia is drinking; having some amazing wine and alcohols. But be prepared to toast every shot you take. Gamarjose!
Khachapuri – delicious cheese pizza. Common as street food, but also possible to get in restaurants. Can range from 1 / 2 GEL to 7/8 GEL depending on size and location. You can also get a variety of versions with eggs
Lobiani – similar to Khachapuri, except this is with beans
Kubdari – similar to both Lobiani and Khachpuri, except this is from Svaneti region and has meat and onions inside. Usually a bit more expensive as it does have meat and as its a regional dish, finding it outside Svaneti is difficult
Khinkali – popular and cheap, usually meat filled dumplings. To eat you hold the tip and suck out the juice. Can get variety of fillings, but default will be meat – pork. Usually cost about 0.70 GEL per khinkali and you have to order at least 5. If you eat with a Georgian they always order more than you are capable of eating.
Chacha – Georgia's version of vodka. It will kill your brain. Is possible to buy actual bottles, but the homemade stuff is preferred (and cheaper). Will come in a plastic bottle, for example an old coke bottle, 300ML can cost you about 3 / 4 GEL depending on the quality. The alcohol content can range from 40 – 80% so beware.
Wine – Kakheti is the main wine region of Georgia and they make their own distinct wine from an old technique. It is possible to get wine in glass bottles, but true Georgian style is from used plastic bottles. 3L of wine can vary from 10GEL in price and is based on quality and also grape (red wine is more expensive than white)
Beer – Georgia makes a variety of beer, some available normally and much cheaper than foreign brands. The best has been within the restaurants that make their own brew. 2.5 Litres of beer in a supermarket will cost you about 6-8GEL and a pint in the bar/restaurant can be normally about 2-4 GEL.
Mtsvadi/shashlik – meat (pork is most popular) cooked on a metal stick on open fire. Absolutely delicious. Comes with raw onion. Also possible to get shashlik vegetables and also sauces, but if the meat is good, no sauce is needed. Can vary on type of meat ordered, location etc. can range from around 6GEL up.
Vegetarian!? Yes its possible to survive in Georgia….but you will definitely insult georgians if you're offered food and reject it. But there is options available…not just the amazing bread and khachapuri, but real vegetables do exist in this country. One of the best is grilled eggplant with walnut paste and pomegranate seeds. Also they have many amazing peppers and Mediterranean vegetables they grill with various fillings. So you can survive in Georgia!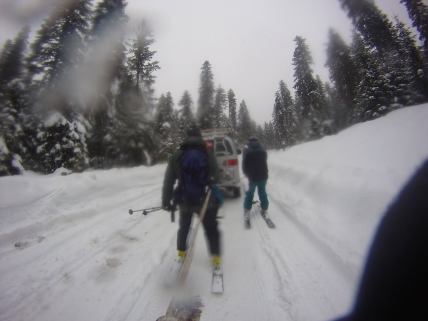 Transport
Hitchhiking is very common in Georgia and even in the mountains with all your ski equipment, the longest I've waited was 1.5 hours to hitch a ride. It can be a really great experience; you will often have the driver offer you food, drink and possibly a place to stay. However, there can be drawbacks with single male drivers who will want sex; I've only left one car after the guy pulled out condoms and was touching my leg. But frequently a stiff hard "No" will have them stop. Generally the experiences are fun and amazing (if there is snow on the ground, you will hitch a ride while skiing!). A good facebook page I discovered is "Let's go" and its a group people post for trips – however, it mostly will work for major city to major city.
However, there are minibuses which are the most common and cheapest way to get around. An idea of price: Tbilisi to Gudauri 7GEL one way (2 hours); Tbilisi to Mestia 30 GEL one way (8 hours).
There is also a train; which can help you save your day time travels, for example, you can take an overnight train from Tbilisi to Zugdidi for 20 GEL. There is even a flight to Mestia (if you're lucky enough to get a seat and the weather is good for 65 GEL one way and takes 45 minutes.
Once within the city minibuses and city buses (and metro in Tbilisi) are cheapest way to get around. With cost ranging from 0.50 – 1 GEL depending on distance. Taxis are also relatively cheap and come in handy as public transport seems to stop around 11pm, you can negotiate anywhere in Tbilisi for about 4 GEL (obviously not including the airport!)
Accommodation
Depending where you go in Georgia can decide the price; but also the type of accommodation and how long will also vary. In the major cities you have hostels, so shared dorm bed can be from 10GEL up.
In smaller cities/villages its more common for a guesthouse. This usually will be your own room for about the same. But quite frequently people will invite you to their home and couchsurfing is quite popular in Georgia in the major cities and sometimes its difficult to find in smaller places. Camping is quite popular, but obviously this is in summer (and in popular places like Mestia, guesthouses will charge 5 GEL to set it up, but I believe this includes use of shared toilet/bathroom).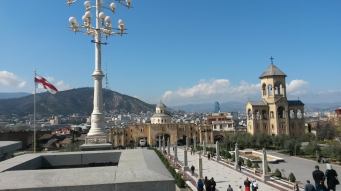 Where to Visit
Tbilisi
The capital of Georgia is a bustling clash of strange new and old decrepit buildings. It is a main hub from which to explore the country. Must see and do is visit the dry bridge markets, visit Nikala fortress, take the funicular to see the views of Tbilisi, visit the old town, and of course eat and drink! Realistically you can see a lot in one day. In the capital you get a variety of people, not just Georgians, but many expats who call this city home. Compared to the villages its a bustling place with European stores and worldwide food options. It does seem that time is mostly spent going to bars and drinking, where every weekend you run into the same people again and again. In winter its a good time to go (for me) as in summer my understanding is Tbilisi heat is unbearable and all the Tbilites (is that the correct term?) head for the mountains or the sea.
Gudauri
Only 2 hours from Tbilisi (maybe less, maybe more), its the most developed ski resort. It has 5 lifts and great backcountry skiing. It is quite expensive to stay compared to other areas of Georgia, but you may be lucky, some hostels charge 15$USD per night. Skiing in Georgia is relatively cheap and the severe lack of rules means you can do or go where you want.
Mestia
An absolutely beautiful UNESCO region of Georgia is Svaneti. Here the endless backcountry skiing routes are incredible, with Heli-skiing extremely popular. Here you will experience a real Georgian mountain village. With the village at 1800m above sea level, the surrounding mountains and Svan towers, give you beautiful backdrop to the friendliest (and craziest) people of Georgia. It takes 8 hours by bus or by plane from Tbilisi about 45minutes. There are lots of beautiful parts of Georgia, but Mestia is the most incredible!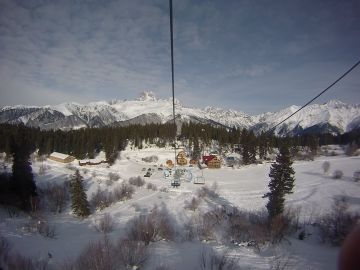 Ushguli
The highest European village at 2,200m it has the most dire road in the world where you cross unpaved road no wider than a car with waterfalls, landslides, boulders and dodging the cows is also key! It is only 40km from Mestia but minimum will take you 3 hours to drive there. In winter it can often be blocked off by snow for months and as such it is extremely remote to the rest of Georgia.
This means food and other essentials are much more expensive than anywhere else, but accommodation is relatively cheap. Here is the home to Georgia's highest mountain Shkara and it is also UNESCO site and absolutely beautiful. The people are friendly. Generally in summer buses run quite often and the price will be about 30 GEL distributed amongst other travellers; however, in winter it is not so common to go and the rates requested can be from 150 to 200 GEL for the car one way. You can try to hithc, but best to contact your guesthouse and see if anyone in Ushguli is driving up and you can hitch but also pay about 30 GEL (as its a small village, everyone knows everyone!)
Borjomi
This has one of the largest national parks in Georgia which comprises about 1% of Georgia's land. It has beautiful surroundings of large pine trees; however, Borjomi city is nothing special – actually its kinda of ugly (thanks USSR). Which is a shame; but this area was popular with the Russians and in the Soviet time was set up in such a way that the buildings are pretty dreadful. The reason; Borjomi water! Its natural mineral water and sulphur baths were popular and nearby is Bakuriani ski resort (30km) away. Borjomi is definitely a much more summer place with the national park, but Bakuriani is a popular ski resort. It was an amazing experience hiking in the national park – being the only person – you could really appreciate the beauty and serenity.
Batumi
The most non-Georgian city I experienced, here there is a lot more Turkish influence in the food (and here you also have mosque call to prayers). But there is also a lot of new tall high rise buildings and interesting modern art. Batumi is the summer beach city, bustling and bursting with foreign and Georgian tourists escaping the heat and hitting the black sea and endless parties. However, in winter; its a ghost town. You can walk the beach and promenade completely alone. The city is surrounded by beautiful mountains, which even in March have snow on top. It is too cold to jump in the water, but the quiet was nice.
Kutaisi
The second largest city in Georgia doesn't have such a good reputation, well at least amongst the Georgians. When you tell a Georgian you are visiting Kutaisi, they say "but why!?". However, once you get there, you can see its not exactly a very beautiful city, but the views from the monasteries to the distances of large snow-capped mountains and forests help distract you from the pretty dirty and old city. Here you can visit some popular tourist site such as Prometheus caves, and several monasteries. However, being winter opening times and scheduling can be adhoc to whether something is open, so you need to check in advance!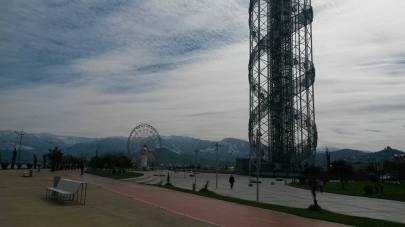 Kakheti
Predominantly I was based in Signaghi, a beautiful part of Kakheti region. When first entering through, in winter, the rubbish, old shabby towns…I wondered why people thought Kakheti was so beautiful then as you drive around the mountain you come to this beautiful village where the cobbled streets and pretty buildings are suburb. Kakheti is famous for their wine and well it doesn't disappoint. Litres will be drunk and during that process you will also try the chacha. Each family makes their own and to them it's their baby. The care and love they have for making wine runs in their blood. To really enjoy the region you need a car as public transport isn't really so good. But in winter the vines are bare and I can imagine in summer once the grapes grow that it will be a beautiful scene.
Things to know about Georgia
Street Crossing – When walking there are pedestrian crossings on the roads, but they are just "artwork". No cars will ever stop for you, you have to battle the traffic.
The Chacha toast – Georgians like to toast every shot, it can be a little exhausting, but also helpful in reducing your intoxication speed.
Men will try it on – You have to be tough and forceful with the Georgian men advances that come with being a single woman on the road. But generally its all pretty harmless; mostly annoying
"No" does not work in Georgia – No matter if you say this in Georgia (Ara) or Russian (Niet) or English (no), in whatever situation, it seems to fall on deaf ears. Whether someone offers you a drink, food, ride, their home, their life. If you say no, pretty much it just means "please offer again, I really want to say yes". It can be frustrating, especially if you are actually dying from the food intake or alcohol consumption and they still want you to do more
Time in Georgia – Expect things to not run on time. End of story.
Driving in Georgia – be prepared for some crazy driving. I was in one minor fender bender in Tbilisi but generally you will be surprised how there aren't more accidents in Georgia, considering how insane the driving is. The only other place I have seen such crazy is India!
Ruski – Russian will get you much further than English will, so learn some basic phrases (I would say learn georgian but its pretty difficult)